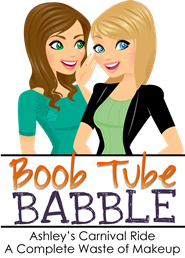 Okay today I am linking up with Neely at A Complete Waste of Makeup and Ashley at Ashley's Carnival Ride for Boob Tube Babble. This is one I have never done before mainly because there are only a few shows I have to watch the day they come on (DVR everything) . I know I'm totally weird!
So here are my must see shows:
This is my absolute favorite and I will not miss it! For those of you who have not seen it please watch it! It comes on Fox and starts on September 6. NOTE: it does come on late for a reason this is not for children!!!
I really only got "hooked" on this show 2 years ago but it is my other must watch!
This week I have been flipping through and I have been watching Millionare Matchmaker you have to see this at least once. I swear most (not alll) of them single for a reason!!!
I have also been watching the Real Houswives... My husband hates this show!
Now these are old but I love them!!! So I just have to share these are the ones I watch most of the time!
Told you I like the old ones:)
Go Link up with Ashley and Neely!
if you have not entered the giveaway at Running Down A Dream go check it out!!!!